Shotgun Shooting Instructor Serving the Savannah, GA
Harry L. Woolley is a certified Shotgun Instructor that offers private and group instruction for clay target shooting by appointment only. He is a NSCA Level III Certified Instructor and a Certified Member of British Association of Professional Shooting Instructors. 
Harry started shooting and hunting quail as a preteen with his grandfather. He has hunted birds and big game on 4 continents, 3 countries in Europe, 7 in Africa, 3 in South America, 2 provinces in Canada, and 20 US States. He has guided bird hunts in Ga, Fl, Al, UT, CO, ID, WY, MT, SD, ND, NB with 6 French Brittany Pointers, 2 Labs, and a Cocker Spaniel.    

He has also worked and managed the picking up team at Blixt and Company, the premier Driven Bird destination in the US for two years.
He has been teaching shotgun shooting for 8 years and has given over 5000 hours of instruction which is required to obtain his Level III Certification 
He spent a month in England learning how to teach students how to shoot "Driven Birds" and became certified by the British Association of Professional Shooting Instructors in the Summer of 2019.
He is a staff Instructor at Dorchester Shooting Preserve, certified and insured 
to teach at 8 different clubs in GA and SC.
He is also currently on the shotgun coaching staff of Savannah Country Day School, the FCGC- National Championship, SCTP team, and the Lowcountry Annie Oakley's.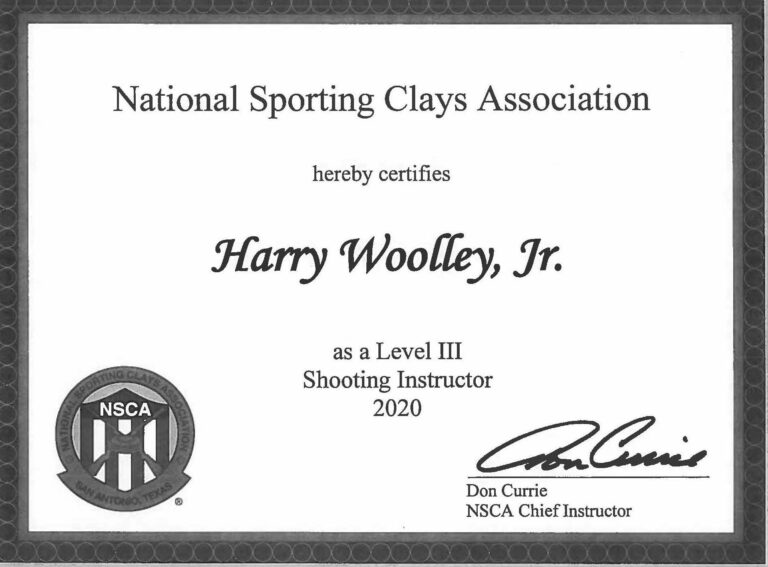 Locations Harry L. Woolley Serves
Harry is in Savannah, GA and teaches at Forest City Gun Club and Dorchester Shooting Preserve. 
Harry will be in Park City, UT from July to September and teaches at Heber Valley Gun Club and Wasatch Wing and Clay.
Lesson Details:
1-Hour

Sporting Clay Shotgun

Private Lessons: $125

1- Hour Private Group Sporting Clay Shotgun Lessons: $175